Clients can save huge amounts of their dental costs with our prices on inlays, veneers, crowns, bridges, dentures and implants at our providers site. Our preferred German dentist is an MD as well a DDS. He is located in Hungary. He speaks 5 languages including English, German, Hungarian, and Polish.
Transport to and from the airport free of charge.
The telescopic bridges is an excellent alternative to dentures, because the telescopic bridges can hold the prosthetic teeth in place and yet be removed easily.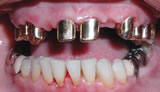 As shown in the photo six crowns or dental implantations are used to secure the prosthetic teeth, so clients with some teeth or no teeth can take advantage of this technology.
Telescope crowns are actually 2 crowns on top of one another. The first metal cap is cemented to the tooth. The second one is inside the removable denture, covered with acrylic or porcelain if it's a removable (telescopic) bridge.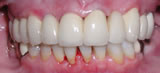 Find out if your dental situation and jaw condition permits the telescopic bridge.